"….and remember what peace there may be in silence…"
Our goal is to provide you with plenty of supervised time to become comfortable and enjoy diving with a recreational rebreather. Until recently rebreather diving was believed to be for the experienced technical diver and required a separate high skill level with specialised technical rebreather.
All this changed with the advent of the world's first recreational rebreather. The Poseidon Discovery Rebreather was designed specifically for the recreational diver who wants to enjoy their diving rather than manage their equipment.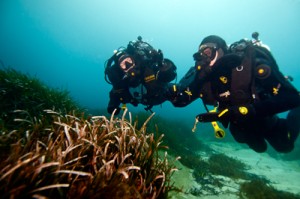 Why dive with the Discovery rebreather?
Rebreather diving should be looked at as just another way of exploring the underwater world but with the added benefits of:
• Longer no decompression times.
• Quiet – no bubbles and you can be closer to the marine life.
• Warmer – the rebreather produces heat as part of its.
• Less dehydrated – the rebreather produces water when it takes out your exhaled carbon dioxide.
• Longer dive times.
Who is it for?
Rebreather diving is perfect for:
• Underwater photographers and videographers – with longer dive times, improve buoyancy control and the ability to get closer to the marine life, you now have a better chance to take that perfect shot.
• Underwater naturalists – silent diving allows you to discover how marine creatures interact with each other. "Observe – Do Not Disturb"!
• Experienced divers – new challenges and adventures. Your no decompression time and air consumption may be limiting your diving. With rebreather diving your limits are increased!
• Boat divers – Three dives = three cylinders. Three hours diving = one rebreather. Spare cylinders not required!
We also offer recreational diver training on the Ambient Pressure Diving (APD) rebreathers (Inspiration Classic, Inspiration with Vision electronics, Evolution and Evolution+) through PSAI and TDI. APD are also about to release their version of the recreational rebreather.
Discover Rebreather Diving for yourself…
If you are not sure whether rebreather diving is for you then why not try our "Discover Rebreather Experience". This will give you a chance to experience rebreather diving in a safe environment so that you can experience the benefits of diving on a rebreather. This experience is also ideal for divers who are already certified on one rebreather but would like to try another.
As a prerequisite to this experience, you would need:
• A PADI Open Water Diver qualification or equivalent.
• To have logged 15 dives.
• To be at least 18 years old.
What's involved?
There are two parts to the Experience:
• Briefing: This is where we review how rebreathers work, how they differ from open circuit diving and how to adapt your diving to rebreather diving.
• Pool Session: Once you are comfortable with the unit you will have a go at some of the skills from the Rebreather Diver course. This will give you the opportunity to experience diving whilst on a rebreather and show you the benefits.
Still a bit confused on what it's all about? Click the link to view our Rebreather Frequently Asked Questions

Ready to become qualified or looking to qualify further, use the links below to find out more about how to do this:
• PADI Rebreather Diver
• PADI Advanced Rebreather Diver
• Integrated PADI Rebreather and Advanced Rebreather Diver
• Rebreather Refresher
• Rebreather Qualifier
• PADI Rebreather Instructor Course
• PADI Rebreather Instructor Crossover