"…beyond the bounds of conventional recreational diving and into the realm of technical diving."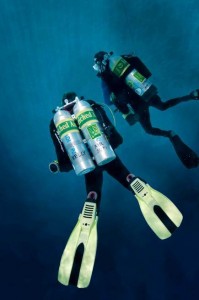 Depending on your interest level in technical diving, the PADI TecRec program challenges you with five diver level courses: Tec 40, Tec 45, Tec 50, Tec Trimix and Tec Trimix 65. You'll experience the more demanding and challenging nature of technical diving through an existing state-of-the-art instructional design with PADI quality material and proprietary programs. You train for real-world tec diving, using a balanced mix of independent study, classroom discussion, and surface pool and open water training.
PADI TecRec courses give you the techniques and procedures required for diving beyond the recreational limits. But remember: technical diving isn't for everyone. If you embrace adrenaline-pumping challenges and are willing to accept the risks, responsibilities ad obligations, you'll find TecRec to be one of the most rewarding experiences you will ever have in diving.
Read more below to find out the course program and structure: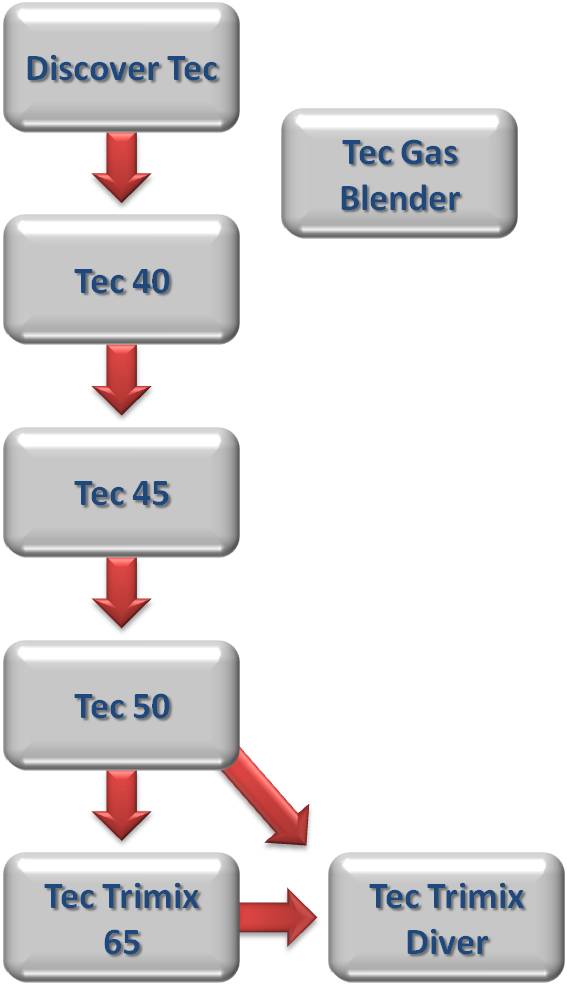 Discover Tec
Discover Tec embraces the Dive Today and Discover philosophies, allowing you to begin your training in the water. You'll actually try the equipment and perform some of the hands-on feel for your level of interest. Click here for more information: Discover Tec Course Information
Tec 40
If you're interested in entry level technical diving, Tec 40 is for you. Learn to make gas-switchs, extended no decompression dives using air and enriched air to depths as deep as 40 metres. You'll also prepare for and respond to forseeable emergencies that may occur in technical diving. Click here for more information: Tec 40 Course Information
Tec 45
In the Tec 45 course you'll learn to calculate dive plans "by-hand", but the emphasis is on using state-of-the-art multi-gas dive computers coupled with decompression software. You'll continue using air, enriched air, and oxygen to practice accelerated decompression permitted with a single decompression gas to depths as deep as 45 metres. Click here for more information: Tec 45 Course Information
Tec 50
The Tec 50 course trains you to conduct decompression and accelerated decompression dives using air, enriched air, and oxygen to depths as deep as 50 metres. You will also be trained on the hazards and risks of technical diving as well as techniques and methods on preparing for and responding to reasonably foreseeable emergencies that may occur. Click here for more information: Tec 50 Course Information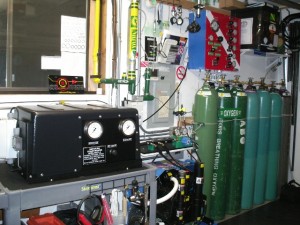 Tec Gas Blender
You'll learn the physical properties of oxygen, its associated hazards, handling requirements and what cleaning equipment is necessary. Finally, you will learn the five methods of obtaining the desired enriched air nitrox mix and the various methods used to obtain proper helium mixes. Plus the Gas Blender course can result in one of two certifications: Gas Blender or Trimix Blender.
Tec Trimix 65
Tec Trimix 65 is a new intermediate certification between Tec 50 and Tec Trimix Diver. This course is directed at tec divers who are interested in getting started with trimix – a gas blend consisting of oxygen, helium ad nitrogen. This course will qualify you to make two decompression gas, open circuit trimix dives to 65 metres. Completing the Tec Trimix 65 diver course earns you credit toward the Tec Trimix Diver course. Click here for more information.
Tec Trimix Diver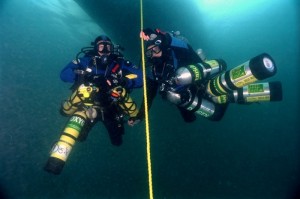 For the extreme diver ready to explore the outer edges of technical deep diving, the gas of choice is trimix. The Tec Trimix DIver course is designed for individuals already certified and experienced in technical deep decompression diving with air and enriched air nitrox. Click here for more information.
Become a Tec Instructor
While learning to dive Tec is in itself rewarding, teaching and passing on your skills in this challenging and dangerous environment can both refine your skills and open up more opportunities to dive to greater depths with new buddies. If teaching others to explore the mysteries of the deep appeals to you, joining the ranks of PADI technical instructors through completing the Tec Deep Diver Instructor course is your first step. The PADI Tec Deep Instructor course incorporates instructional philosophies and course goals that directly address the demanding and challenging nature of technical diving instruction. As a Tec Deep Instructor, you'll be qualified to conduct the Discover Tec Experience, teach the Tec 40, the Tec 45 and the Tec 50 course. Click here for more information.
Trip report for Tec 50 course in the Red Sea, March 2015. A welcome to the Red Sea